What's On
Shhh! It's starting…
Rickshaw Rides & Walking Tours
The previously sell-out rickshaw rides and walking tours are back! Head to the Box Office Information Point on Sloane Square to reserve your place on a rickshaw ride or on one of our walking tours throughout the week –the ultimate way to enjoy this year's blockbuster event.
Rickshaws run from 10.30 until 5pm each day, with walking tours depart at 11am and 3pm (exclusions apply on Monday, 22May). Please note, bookings cannot be pre-made ahead of your visit.
Confetti Club
Many of the flowers from this year's event will be donated to Confetti Club, a not-for-profit who repurpose used flowers to create beautiful, biodegradable dried petal confetti with all profits going to Cancer Research UK. Through recycling many of the flowers from the Central Installations, and working with this year's participants, Confetti Club will provide a sustainable finale to the event, as well as create a stunning product that will bring joy to those 'just married', and raise money for a brilliant cause.
Find out more at confetticlublondon.com
Refreshing Treats
Cocktail – The Garden Party
Pop into Sir Frank's Bar for a Chelsea in Bloom themed cocktail The Garden Party!  Espolon Tequila Blanco is combined with Cazcabel Honey, Lime and a Homemade Rose Grapefruit Soda to create a floral themed refreshing summer tipple.
Dessert – Strawberry Sensation
For a sweet treat after a morning of admiring the blooms, tuck into the Strawberry Surprise dessert.  Created especially for Chelsea in Bloom the dessert offers a yoghurt meringue with yoghurt whipped ganache, strawberry coulis, fresh strawberries, yoghurt opaline, lemon verbena sorbet and strawberry juice.
Beaverbrook Town House, 115-116 Sloane Street, London SW1X 9PJ
Celebrate at Peter Jones
Join Peter Jones for an exciting line up of celebrations:
Treasure Hunt – running until 28 May, find all the golden tickets hidden in store to form a secret word. Collect your prize from Customer Support on 6th floor.
Talking Tables Tablescaping – until 26th, join complimentary tablescaping sessions at 2.30pm each day.
Bobbi Brown Pro Artists – discover the Bobbi Brown Pro Artists on the 1st flor, on hand to guide you through summer looks.
Childrens Crafting – From 25-28th, enjoy floral-themed children's crafting at 1pm and at 4pm on the third floor.
Petal Lady – On 26 and 27th, meeting the Petal Lady hosting the King's Road doors between 1-3pm.
Face Painting – Enjoy complimentary floral themed face painting on Floor 3 between 1-4pm on 27 May.
Postmodern Pop Band – Catch live music on Floor 2 from 1-2pm and 3-4pm on Floor 2
Peter Jones, Sloane Square, London SW1W 8EL
Colourful Totes and Tasty Treats
Russell & Bromley is offering a complimentary tote bag (choose from purple or green) as a gift with purchase to the first 800 customers for the week of Chelsea in Bloom.
And that's not all – first 50 customers each day, until Saturday 28, can enjoy delicious bespoke biscuits, created in partnership with Biscuiteers, inspired by their summer collection.
Russel & Bromley, 64 King's Road, London SW3 4UD
Limited-Edition menu
Chucs Café invite you to enjoy their Chelsea Flower Show inspired menu, available until 29 May. Sip on a sophisticated Positano Violet cocktail, blending Stabiano Gin, violet liqueur, lime juice and lavender bitters with Prosecco and indulge with the perfect pairing of Grilled Asparagus and Pecorino Salad, drizzled with wild blossom honey and truffle dressing with a beautiful garnish of edible flowers.
Chucs Café , 65 Lower Sloane St, London SW1W 8DH
Smoothie Special
Celebrate Chelsea in Bloom with KXU's Green Iron Smoothie special, available for £5 until 28 May. The plant protein-packed smoothie (vanilla protein powder, kale, banana, pineapple, coconut milk, sunflower seeds and edible flowers) makes for a perfect floral post workout treat.
KXU, 241 Pavilion Rd, London SW1X 0BP
Seal it with a Stamp
Take inspiration from nature's untamed beauty and transport yourself to The Highlands with Jo Malone London. Enjoy a complimentary glass of bubbles whilst you take in the iconic scenery of the Scottish Highlands, and personalise your gift box with a wax seal stamp topped with a sprig of lavender, inspired by the majestic wilderness of their limited-edition collection. Available on all purchases between 22nd May – 28th May.
Jo Malone London, 150 Sloane St, London, SW1X 9BX
Strike a Pose
Here's your chance to win a £250 Dermalogica bundle! Simply take a selfie in front of their Chelsea in Bloom display and tag @dermalogicaUK to be in with the chance of winning.
And don't forget to book tickets to their in-store event on Thursday, 25 May. Featuring a showcase of skincare treatment services, goody bags, exclusive prizes, refreshments and much more, with tickets costing just £20. Purchase yours here.
And finally, enjoy complimentary engraving in store on Saturday 28 May when purchase two or more products. You'll receive a free ultimate gua sha roller and the opportunity  to have this engraved.
Dermalogica, 37 Duke of York Square, London SW3 4LY
Complimentary Seedlings
Natoora will be offering passers-by complimentary potted seeds on Monday 22 May for visitors to take home and grow themselves. And, if you miss the chance to stop by on Monday, the seedlings will be on sale in-store for the rest of the week.
Natoora, 245 Pavilion Rd, London SW1X 0BP
Sweet Treats
Enjoy celebratory floral treats at the Birley Bakery throughout the week: a limited-edition Chelsea Flower Shortbread (£8.50 each) and Bergamot Cake (£9.95 each). The perfect way to refuel!
Birley Bakery, 28-30 Cale Street, London
In-store with Jigsaw
Jigsaw have an action-packed week of activities to celebrate Chelsea in Bloom. Enjoy a Styling Workshop, The Garden Guidebook with Rupert Golby on Tuesday, Build your Own Bouquet sessions, A Day at the Movies and a Personalisation Station by Hand & Lock. Find out more here.
Jigsaw, 145 King's Road London SW3 5TX
Celebrate with Sarah Chapman
Discover a series of complimentary activities and workshops throughout the week at Sarah Chapman – from floral nail art sipping on of JP's Originals CBD ice tea to one-to-one skin consultations with Sarah Chapman Education & Events Manager and skincare expert, Greg Vaughan. And, get creative with the bracelet making workshop with a selection of fun, handpicked mix-and-match beads. Head in store to find out more.
Sarah Chapman, 259 Pavilion Rd, London SW1X 0BP
Blooms and Bubbles
Enjoy a week of treats in store – customers can take away complimentary bouquets of flowers by London florist Greta in Flowers and enjoy a glass of Coates & Seely Sparkling rosé brut while browsing the collection with 20% OFF. There's also the chance to win £1,000 to spend in store.
Really Wild, 53 Sloane Square, London SW1W 8AX
Sweet Celebration
Treat yourselves with a trip to The Baby Cot Shop and enjoy celebratory delicious cakes and tea in store all week from Tuesday 23 May.
The Baby Cot Shop, 408 King's Rd, London SW10 0LJ
Elegance Afternoon Tea
From 13 – 31 May, The Capital Hotel will be offering a special edition Afternoon Tea, created in partnership with Jing Tea and Annabel's Jams.
Enjoy the Traditional JING Floral Elegance Afternoon Tea (£50) which includes a selection of sandwiches, sweet treats – from Mango Cheesecake to the Wildberry Chocolate Dome – and fluffy scones to enjoy alongside a variety of teas. For something that bit more special, the Signature Cocktail Floral Elegance Afternoon Tea (£64) includes the Blossom Floral Cocktail, a fine blend of No3 gin, rose liqueur, lemon juice and JING Jasmine Pearls Sparkling Tea, or a glass of fizz.
The Capital Hotel, Apartments and Townhouse, 22, 24 Basil St, London SW3 1AT
Floral Feast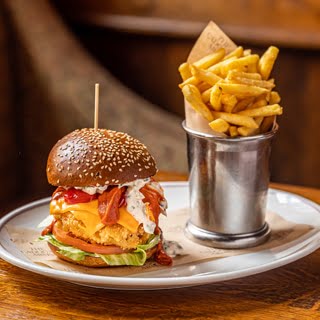 Indulge in The Cadogan Arms' Chelsea in Bloom terrace menu. Highlights include a fried Chicken Burger, with hot sauce, ranch dressing, sweet chilli peppers, iceberg lettuce, American cheese and tomato on a toasted sesame bun, served with skinny fries. Find out more here.  
Cadogan Arms, 298 King's Road, London SW3 5UG
Casamigos at The Cadogan Arms
As the sun sets, join The Cadogan Arms team in the Rose Room for their ' House of Friends' partnership with Casamigos with cocktail highlights including a menu of Margaritas, and the especially tasty refreshing Rosé Paloma. 
Cadogan Arms, 298 King's Road, London SW3 5UG
Soak up the sunshine at Summer in Sloane Square
Côte on the Square are celebrating with two exclusive special cocktails for Chelsea in Bloom. A'Rose Summer Cup' with Cotes de Provence Rose, Chambord black raspberry liqeuer, Fever-Tree Mediterranean tonic, garnished with strawberries, cucumber & mint for £10.95 and an 'Elderflower Spritz', featuring IGP Pays d'Oc Chardonnay, St-Germain elderflower liqueur, Fever-Tree white grape & apricot soda, lemon & mint garnish for £9.50.
Boutique Bliss
Sip and shop at RIXO's new flagship store. Head to the in-store bar (yes, you heard it right) for a special 'Kudu Blossom' cocktail for £13 and floral matcha for £3.90 exclusively from 22-28 May.
RIXO,  114-116, King's Rd, London SW3 4TX
Diptyque Delights
Capture your Chelsea in Bloom memories with a visit to Diptyque. Enjoy a photoboth in store throughout the week, an engraver to personalise your purchases on Thursday and Saturday afternoons (2-6pm and 1-5pm respectively) as well as complimentary champagne and light refreshments each day, perfect to sip on whilst admiring their display.
Diptyque, 161 Sloane St, London SW1X 9BT
Petals & Potions
Sip on Sticks 'n' Sushi's limited-edition Chelsea in Bloom cocktail, 'Katsumoto's Flowers' – a delicious blend of Haku vodka, jasmine liquor, hibiscus, shaken with lychee, lemon & egg white for just £12.50.
Sticks 'n' Sushi, 113-115, King's Rd, London SW3 4NT
Fashionable Blooms
Discover Massimo Dutti's special window display whilst on your tour between the participants. Be wowed by large large raffia flowers and fresh blooms, the perfect nod to Chelsea in Bloom and the fast-approaching summer.
Massimo Dutti, 19-21 King's Rd, London SW3 4LY
Best of British
For the third year running, Boodles is creating a 'Best of British' garden at the Chelsea Flower Show, a celebration of British craftmanship.
And if you don't have tickets for the Flower Show, visit Boodles on Sloane Street to discover the new extended Raindance collection, designed especially for the 2023 Chelsea Flower Show.
Boodles, 6 Sloane St, London SW1X 9LE
Blossom and Berry
Celebrating the Chelsea Flower Show with two delicious floral cocktails for £13.00 each running exclusively from 22 May – 29 May.
The Florallini is made up of Blossom Jasmin & Rose Gin, Lychee Liqueur, Lychee Juice, Lemon Juice and topped with Champagne. The Chelsea Garden comprises a Blackberry Muddle, Vodka, Blackcurrant Liqueur, Cranberry Juice, Lemon Juice and some Sugar Syrup for sweetness.
What's more, those that show their Chelsea Flower Show tickets will get a FREE special cocktail with their meal for the week of the Chelsea Flower Show.
Kahani, 1 Wilbraham Pl, London SW1X 9AE
Fresh Floral Bouquets
Monica Vinader are giving away a limited number of fresh floral bouquets at 1pm each day, from 22-27 May. Simply sign up to their newsletter in store to receive your blooms.
Monica Vinader, 71-72 Duke of York Square, London SW3 4LY
Indulgent Set Menu
Celebrate this spectacular week with an exclusive four-course set menu and Blood Orange Gin arrival cocktail at Rabbit for just £48 per person.
Delicious courses include their iconic Mushroom and Marmite Éclair, Sea Bream Tartare, Tempura Courgette, Pork Tenderloin and an indulgent White Chocolate and Cherry Cheesecake for dessert.
Rabbit, 172 King's Road London SW3 4UP
Mini Bouquets
Receive complimentary bouquets of fresh blooms at The White Company on Monday 22nd, hand tied by the team in store for all customers on a first come first served basis.
The White Company, 4 Symons Street, London SW3 2TJ
Entertainment Extravaganza
Enjoy a week of entertainment at Sloane Square Hotel including stilt walkers, a string trio, living statues and more, plus a selection of sharing boards and cocktails in the hotel Lounge. And for those looking to carry on the celebrations into the early hours, Toneteria, neighbouring nightclub, will be opening a few hours earlier at 6pm.
Sloane Square Hotel, 7-12 Sloane Square, London SW1W 8EG
Casablanca on the Square
As part of their celebrations, enjoy a bespoke Casablanca menu throughout the week at Comptoir Libanais and with a series of surprises including belly dancing, live music, fortune tellers and much more.
Comptoir Libanais, 53-54 Duke of York Square, London SW3 4LY
Cocktails and Nails
To celebrate the start of Chelsea in Bloom, Townhouse will be offering complimentary Lillet Rose Spritz's with any treatment on Monday, 22 May.
Townhouse, 261 King's Road, London SW3 5EL
Swing onto the Square
Visit Cote on the Square for a picture-perfect Instagram moment – a floral swing-chair, created in partnership with Laurent-Perrier. And whilst you there, don't forget to treat yourself to a refreshing cocktail or two.
Sloane Square, London SW1W
Limited Edition Dessert
Discover the exclusive Chelsea in Bloom dessert at The Ivy Asia Chelsea – the Tirayuzu featuring white chocolate, Yuzu, lemon sponge and mango sorbet. The perfect refreshing sweet treat, available for £10.95.
The Ivy Asia, 201-203A King's Road, London SW3 5ED
Complimentary Embroidery
Allbirds are offering complimentary embroidery for all customers who purchase a pair of shoes in-store from 26-27 May. Whether you want to add a name, initial or a special symbol, Allbirds' skilled embroiderer, Sarangua will create a one-of-a-kind pair of shoes to celebrate the floral festival.
Allbirds, 54 King's Road, London SW3 4UD
Floris Fine Art
Have you seen the giant Floris Fine Art paintings on display at the Chelsea Fire Station? Catch them until June, Floris Fine Art is a UK collective of three award-winning floral oil painters; Penny German, Sophie M Cook and Felicity Starr. The timing of the exhibit couldn't be more perfect, coinciding with Chelsea in Bloom and featuring flowers in vibrant hues that are sure to leave a lasting impression.
Floral Masterclass by Alice Strange
Gaucho are hosting a Floral Masterclass led by renowned florist, Alice Strange on 23 May, 11am – 1pm. Celebrating the best of May's blooms, learn how to create your very own luscious statement summer bell vase, bursting with scent and colour, using tall delphiniums and blush garden peonies to take home.
Tickets cost £95pp and include flowers and foliage, a vase and complimentary champagne and canapes throughout. And ticket holders can also enjoy 25% off on food in the restaurant for lunch afterwards. Find our more and book here.
Gaucho, 89 Sloane Av, London SW3 3AL
Floral Illustrations
On 26 May, Papersmiths are thrilled to be hosting Jessica Smith Illustration. Watch Jessica live-paint her signature floral designs onto their British-made notebooks – shop yours in store for £30 or bring your own for £10. Not only is she creating a one-of-a-kind illustration for you, but you will take away a truly timeless piece of art which can be repurposed by easily removing the cover to frame the front page.
Tickets are free – reserve your spot here.
Papersmiths, 170 Pavilion Road, London SW1X 0AW
Beauty of the Season Cocktail
After marvelling at the Beaverbrook Townhouse display, pop inside to Sir Franks Bar and enjoy their 'Beauty of the Season' cocktail, with flavours inspired by the beautiful Cherry Blossom blooming throughout the neighbourhood. A blend of Ki No Bi gin with St. Germain, Cointreau and orange bitter to create a refreshing taste of spring!
Beaverbrook Townhouse, 115-116 Sloane Street, London SW1X 9PJ
For The Love Of Flowers
Marking a decade of serving the Chelsea community and to welcome in summer, discover Lavender Green's enchanting in-store experience, 'For the Love of Flowers'.
Coinciding with Chelsea in Bloom from 22-26 May, they are promising a showcase a creativity, quality and passion. Tucked away behind an unassuming door, adorned with herbs, flowers and trees, lies a courtyard which transports visitors to a secret garden – complete with parasols and mesmerising water features. A profusion of flowers,  reminiscent of the picturesque meadows of England, with sounds of rusting trees, buzzing bees and chirping birds will stimulate the senses and the extraordinary mirror ceilings will leave you in awe.
Tickets are £100 and can be booked here.
Lavender Green, 239 King's Road, London SW3 5EJ
'Rare Space' by Charlie Hawkes
Chelsea Flower Show tickets holders, don't forget to visit the 'Rare Space', Charlie Hawkes' Sanctuary Garden for the National Brain Appeal.
The award-winning landscaper has created a safe place for people of all ages living with rare dementias. He has chosen plants and trees to minimise sensory disruption for people with neurological conditions including Parrotia Persica, a wide-spreading multi-stemmed shrub and Hakonechloa Macra, an eye-catching ornamental grass. Find out more here.
Beauty Haul
Strike a pose outside the Space NK's floral display and share on Instagram with your best film-inspired caption to be in with the chance of winning a £500 SpaceNK Beauty Haul. Don't forget to tag @SpaceNK!
Space NK, 27 Duke of York Square, London SW3 4LY
Floral Jewels
When shopping at Les Nereides throughout Chelsea in Bloom, shoppers will receive a free mini bouquet with every purchase, and those spending over £149 will take home a complimentary flower bracelet. On top of that, to celebrate their Marie-Antoinette display, Les Nereides have collaborated with Boutique de Musees to offer three lucky winners a Les Nereides designed Marie-Antoinette necklace.
There will be a total of six winners for the competition, three from Instagram and three from in-store. To enter on Instagram, follow both Les Nereides and Boutique de Musees, like and tag a friend in the comment and share via your story. To enter the in-store competition, simply fill in the contact detail card and drop in the box in-store.
Les Nereides, 132 King's Road, London SW3 4TR